Welcome to Watsons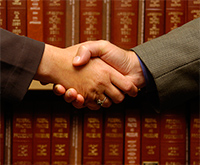 Watsons is a leading Criminal Law firm based in Sydney, Australia. The firm was established in July 1976 and since its inception has provided broad-based services in all facets of Criminal Law.
The principal, Chris Watson, has been accredited as a Criminal Law Specialist since the introduction of the accreditation scheme. He is admitted to practice in most States and Territories of Australia and is one of the founding members of the NSW Criminal Defence Lawyers Association.
Experience is Vital
With four decades of experience in all fields of Criminal Defence work, we know and are known by other Law Firms, Barristers, Police, Magistrates and Judges.
Watsons can bring recources to your Defence that few, if any, Law Firms in Australia can match.
Your first phone consultation is free, So Call Us Now!
Watsons has represented clients in many land mark decisions, and has established general principles across the full spectrum of serious criminal charges. These charges include murder, corporate fraud, kidnapping, sexual assault, major drug importation and distribution, money laundering, and related fields such as assets confiscation. Watsons can also offer a vigorous defence in the more routine offences, such as assault and drink driving etc.
Whatever your Criminal Law needs you can be assured that Watsons will provide:
Prompt consultation process

- From your very first contact with us you will be consulted promptly and diligently. We provide concise advice in plain english explaining your options, as well as the risks and probable outcomes. At all times we provide you with clear recommendations.

Legal updates

- We keep you completely apprised with all new developments as your case progresses.

Detailed quotes

- From the outset we fully outline all anticpated costs and fees associated with your defence. Our costing is competitive and we provide you with clear computerised accounting that is available to you at all times.

Full communication

- We are dedicated to fostering timely communication with you and we are committed to being available to you when you need to talk to us.

Exclusive criminal law specialists

- We practice exclusively in the field of Criminal Law where we have four decades of experience. We are recognised for our expertise and we fully understand your issues and concerns. We have a reputation for integrity, efficiency, and service. We aim to surpass all your expectations.

Client relationship

- We treat clients with respect and courtesy. We aim to create a relationship of trust and satisfaction.

Location

- We are conveniently located in the centre of the city near the Federal Police Headquarters, the NSW Police Centre, the Supreme, District and Local Courts, State and Federal Prosecutors and other investigating bodies. We can be there when you need us.