Our History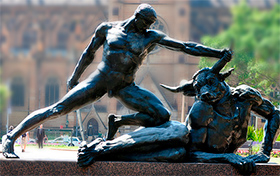 In July 1976, the firm Watsons was established in Frederick Jordan Chambers, then at 233 Macquarie Street, adjacent to the Supreme and Federal Courts at Queens Square. The practice continued in these chambers until 1990 when the need for expanded premises brought a move to Novar Chambers, a large turn of the century mansion in Darlinghurst.
New partners were admitted and additional staff engaged as the firm developed its two main divisions, commercial and civil litigation, and criminal law. These divisional arrangements led ultimately to the creation of two seperate firms, with the criminal law practice continuing under the banner of Watsons.
The sale of Novar Chambers in 1999 caused relocation of the firm's offices to the Connaught Building at 187 Liverpool Street, Sydney. In 2011 the firm moved nearer to the Downing Centre Criminal Court complex and is now situated on level 4 of 130 Elizabeth street in central Sydney, adjacent to Hyde Park.
This location places Watsons close to Federal Police Headquarters, the Sydney Police Centre, the Australian Crime Commission, the ICAC and offices of State and Federal Prosecutors and to many other bodies relevant to the practice of criminal law such as Legal Aid and Barrister's chambers etc. Watsons continues to be a leading criminal law firm and provides broad-based services in all facets of criminal law and in all jurisdictions. The firm has represented clients in many landmark decisions and has established general principles across the full spectrum of the serious criminal charges.